The Creative Journal

3 Fall offerings for People with Dissociative Disorders
Mondays At Noon ET, beginning September 18, 2023 Tuesdays At 7ET beginning September 19, 2023 and Thursdays at Noon ET beginning September 21, 2023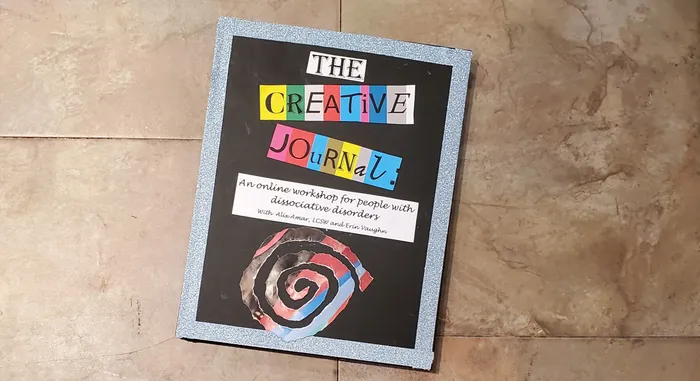 The Creative Journal: An Online Workshop for People with Dissociative Disorders
In this art-based workshop, we explore many ways to use journals for self-expression and healing. We use different media and techniques in our personal journals including paint, journal prompts, found poetry, collage, making small books and creating pockets to keep things in.
To be clear, this is not a therapy group, but rather a workshop, intended for people with dissociative disorders who are able to self-regulate. It is an opportunity to gather in community, while learning various techniques to add to your personal journal. Each session includes time to work on your journal and share what you have created with others in the community.
You will need a few art supplies such as markers, crayons, a glue-stick, old magazines, watercolor paints and of course, your journal. Most are easy to obtain at minimal cost. When you sign up, a suggested materials list will be sent to you. We will also arrange a short Zoom meeting so that we can meet and your questions can be answered. All sessions are eight weeks long and run for an hour and fifteen minutes. They are held on the Zoom Platform.
About your workshop leaders:
Alix Amar, LCSW is a psychotherapist in private practice, residing in Georgia. She specializes in working with survivors of trauma and DID. She enjoys opportunities to expressive herself creatively and is excited to co-facilitate this class for people with dissociative disorders so they can learn more fun and satisfying ways for self-expression. She has presented at the Expressive Arts Summit in New York City, is on the board of An Infinite Mind and is a trained SoulCollage® Facilitator.
Erin Vaughn, is a Therapeutic Arts Facilitator, also in Georgia. She works with people of all ages and backgrounds by helping them to express themselves through art. She enjoys exploring art and finding new ways to express what may not be able to be voiced. She looks forward to co-facilitating this class for people who would like to learn fun ways to express themselves in a journal. She is on the board of SoulGround, holds certificates in Healing Expressive Arts and is a trained SoulCollage® Facilitator.
For more information or to register, contact Alix at [email protected]
-----------------------------------------------------------------------------------------------------------------------------------------------------------